ADA Compliant Sign Consulting
Do you have blueprints but not the time to plan the signs and directionals?
One call to Patty Ann Design and your custom signs will be handled start to finish.
ADA requirements can be overwhelming, but we have experts to stay on top of the standards so you don't have to. Don't invest your time in planning the signage. Let Patty Ann Design use our time and resources to help you win this project. No potential client will be able to resist the impression we will make for you.
Our professionals are sign consultants first.
Let our experience take the burden of compliance and make it easy for you. With over 20 years of experience in the sign industry, we want to help.
Help take the stress out of what signs go where
Help answer questions about compliance
Help make your signs work for . . . everyone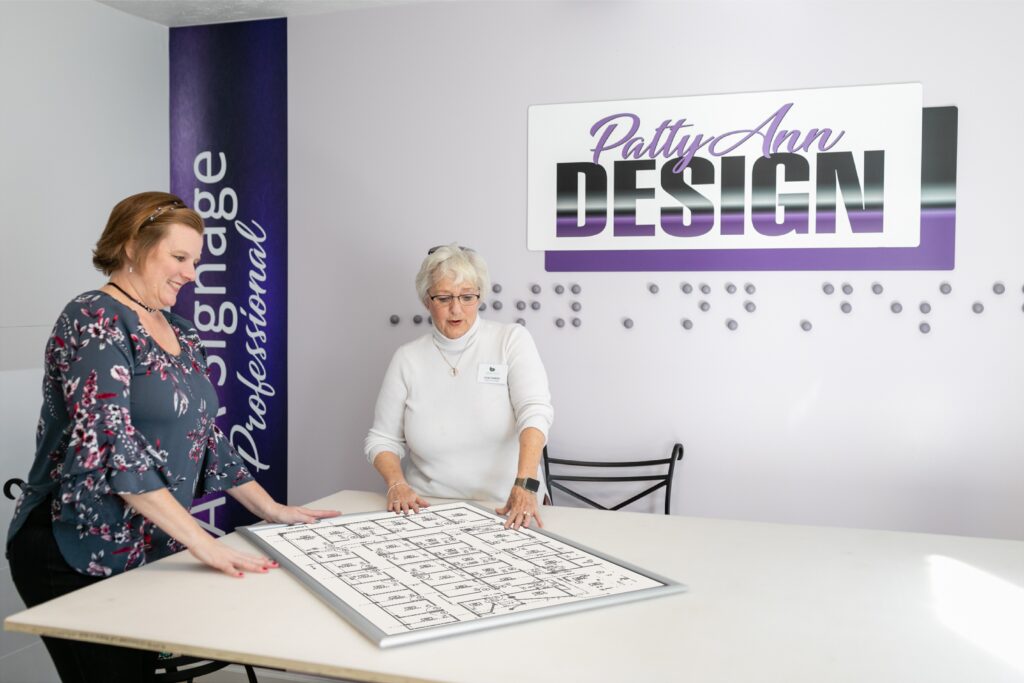 You can go from blueprints to beautiful, functional signs in a few easy steps with our guidance.
Blueprint analysis – to determine your sign needs, specifications and locations
Site survey – no blueprints, no worries! We will come to you
Detailed proofs – for your approval
Production – timely creation of the required signs
Installed – with ADA specifications
We are your first choice for a full-service sign experience.
Starting with a qualified consultant to help navigate your blueprints or your actual space to create ADA compliant signs that will leave a lasting impression. Your custom ADA consultant can recommend which ADA compliant signs will work best for each project.
We will explain the benefits of permanent signs for rooms that will never change and point out which rooms will need to be identified with a sign, but will not need to include raised letters and braille. These are specifics that Patty Ann Design LLC is trained to recognize when devising the plan for your sign program. We determine what you need to be compliant as well as what will work best for your budget and specific facility.
All ADA signs are NOT the molded plaques you get at the local hardware store.
Patty Ann Design excepts the responsibility of compliance, but we do not except boring! Our creative designers will incorporate all the aspects that set you apart from the competition. There is a wide variety of options available to make an impact and direct staff and visitors to where they need to go.
Branding
Texture
Color
Dimension
Size
Acrylic
Metal
Designer
Custom finishes
Fabrication techniques
Contact us today.
Make an appointment with an ADA compliant sign consultant to get your custom sign program started. Equipped with over 2 decades of sign experience, we look forward to giving you the confidence that the signs and ADA regulations are taken care of.
Patty Ann Design is creating with a purpose. INSPIRE, INFORM. CAPTIVATE.
We would love to help you with your custom ADA signage needs.